The NPF is often referred to as Australia's last 'wild frontier' fishery. 52 vessels are licensed to operate within the fishery, which covers approximately 880,000 square kilometres of Australia's northern waters. Less than 12% of the waters are fished.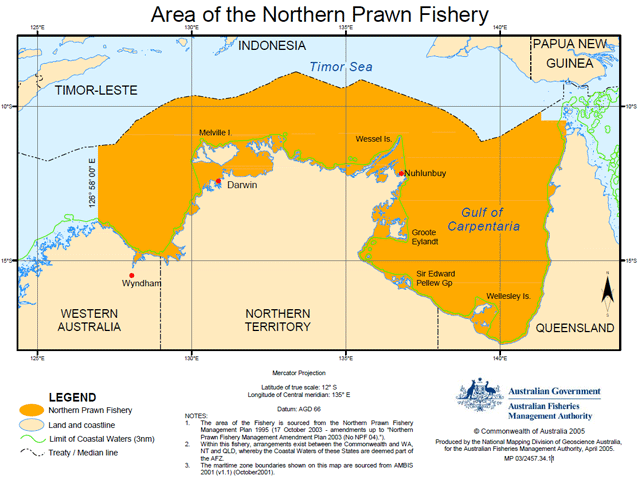 The NPF is highly regulated and is considered to be one of the best managed fisheries in the world. The Australian Fisheries Management Authority (AFMA) is responsible for managing the fishery in accordance with its legislative objectives, and ensuring the utilisation of the fishery resource is consistent with the principles of ecologically sustainable development and the precautionary principle.
Input controls are used to control fishing effort on target, byproduct and bycatch species. The fishery is managed to well defined limit reference points and under clear decision rules in accordance with an approved Harvest Strategy.


Trawling is undertaken using two, three or four nets, and it is compulsory for all fishing equipment to be fitted with Turtle Excluder (TEDs) and Bycatch Reduction Devices (BRDs). A daylight trawl ban is in place during the tiger prawn season (August-November) to limit fishing effort on tiger prawn spawning aggregations.
Management advice is provided to AFMA by the Northern Prawn Fishery Management Advisory Committee (NORMAC), which is comprised of AFMA, industry, scientific, conservation and State government representatives.
NPF Industry Pty Ltd have been working in partnership with AFMA and the Fisheries Research and Development Corporation during recent years to test industry self-regulated functions and responsibilities and other arrangements that work beneficially for both parties that can be more broadly implemented across Commonwealth fisheries in the future.